15 April, 2015
ASHLEY PARIS: Account Director, MarketOne Digital
I was baptized into the Eloqua community in 2007 in the newly created role of "eMarketing Operations Manager" at the TD Garden in Boston, Massachusetts. Rarely has a single event (the decision to invest in Eloqua as our marketing automation tool) so dramatically changed the trajectory of a career as that one did mine.
Within months I became a member of a burgeoning cult-community of "marketing technologists" who were driven by a passion for challenging the … Continue reading…
23 March, 2015
With the 2015 Modern Marketing Experience just around the corner, MarketOne is thrilled to be a sponsor for the 8th straight year.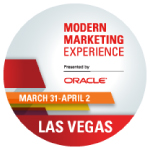 The Modern Marketing Experience will take place from March 31st – April 2nd at The Venetian Resort in Las Vegas, Nevada and this year features keynote speaker James Franco and GRAMMY-award-winning band, OneRepublic.
Aside from the sprinkling of celebrity entertainment, the event is a great opportunity to learn about the latest marketing trends and … Continue reading…
All news