Events
Join MarketOne at B2B Ignite USA: 2-3 June, 2021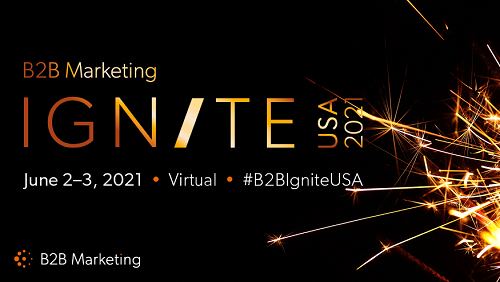 Looking for a last-minute premium ticket? We have a few free tickets left – sign up here!
We are excited to announce that MarketOne has signed up as a sponsor for the upcoming B2B Marketing virtual event, B2B Ignite USA, taking place from 2nd-3rd June 2021.  With over 40 sessions and keynotes in total, covering 6 tracks – Customer Experience, Execution and Campaigns, Growth, Marketing Operations and Technology, Insight and Intelligence, Brand and Content Strategy – the event is billed as 'The world's biggest and most-loved B2B Marketers' event', and promises to be crammed with great actionable content.
We are sponsoring the Customer Experience track, and will be speaking on Thursday, 3rd June at 1.45PM, Central Time. Our session, 'Orchestrating your way to CX Excellence' will be presented by MarketOne experts Shaun Ma, Director of Strategic Advisory, and Jennifer Comisford, Marketing and Technology Strategist, and key takeaways will include:
How to manage non-linear, complex purchasing decisions using machine learning
Making Single View of Customer work for you: key focus areas and achieving rapid implementation
Enabling cross-channel orchestration on all customer touch points – it's less work than you think!
You can find out more about the event here, and if you are thinking of attending, we have a limited number of free premium tickets to give away, so please reach out via our inquiry form for more information on availability and to set up a meeting with a member of our team. We are also sponsoring Ignite London at the end of June / beginning of July (more news on this soon) and look forward to catching up with you at one or both events!