Partners
MarketOne becomes a Salesforce Partner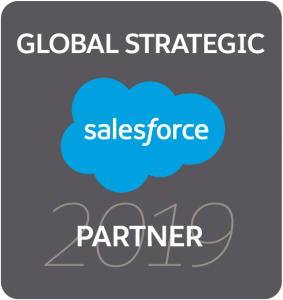 MarketOne is thrilled to announce that we have formally joined the Salesforce community as a Consulting Partner, specializing in Salesforce Marketing Cloud services. This partnership formalizes our commitment to grow our team's Salesforce Marketing Cloud skills and certifications, while continuing to offer our clients what we feel is the most strategic and pragmatic marketing automation advisory available.
Since 1998 MarketOne has been a leader in B2B Demand Generation, with deep expertise in driving sales through highly relevant, connected omni-channel conversations. As we move into 2020, we are excited to expand the Salesforce services we offer our clients, while providing new learning and growth opportunities for our employees.
Why Salesforce, and Why Now?
Salesforce has been the leader in CRM for many years, showing exponential growth since 2011. We've always had a hand in helping our clients get the most from their integrated Marketing Automation/ Salesforce CRM stack, but recent changes and acquisitions at Salesforce have led us to believe that now is the right time to fully embrace Salesforce Marketing Cloud as part of MarketOne's core offering.
For several years now, MarketOne has embraced data connectivity and health as the foundation of a solid Demand Generation practice. Creating a Single View of the Customer (SVoC) for our clients is a cornerstone of our digital transformation practice, which enables our Buyer Journey Engagement Model for segmentation and driving the right message at the right time. Salesforce's recent acquisition of MuleSoft now enables simplified API connections across the Salesforce ecosystem and beyond, making the creation of SVoC a more straightforward proposition. The maturation of Salesforce Marketing Cloud's Journey Builder makes it much easier to trigger communications based on data from multiple systems, allowing for more sophisticated usage of that full Customer 360 view. And Salesforce's recent acquisition of Tableau could prove to be key to visualizing and sharing the enhanced metrics and KPIs made possible through tight integration of Marketing/Sales/Service/Commerce clouds.
An investment in our employees and in the future
Over the past year, MarketOne has renewed its commitment to helping our employees learn and grow in their careers. Career development is a top priority as we move into 2020, and Salesforce's free Trailhead training resources will be a useful tool in implementing some of our training initiatives. The most immediate and direct training focus will be for our Strategic Advisory team led by Shaun Ma. We look forward to several of our strategists across North America and Europe achieving their Salesforce Marketing Cloud Consultant certification in the next few months. In addition to providing training on Salesforce cloud technologies, our teams will also take advantage of sales leadership, management, ethics, diversity, and demand generation modules to help them grow in their current roles and prepare for their next.