Events
MarketOne to sponsor B2B Ignite London 2021: June 30 – July 1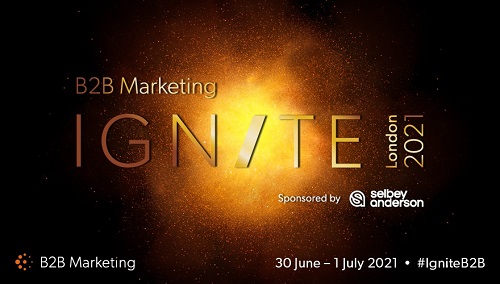 Are you ready for 'The World's biggest virtual B2B Marketing and Networking experience'? Taking place from 30th June – 1st July, 2021, B2B Marketing Ignite London is their annual summer showcase event, and we're delighted to be a sponsor of the Marketing Operations and Process track.
We're really excited about our speaker session, 'The 80s called and they want their lead scoring back. How to lead score like a boss in the all digital future', starring B2B Marketing Technology Strategists Mary Kleinsorgen and Gifford Morley-Fletcher. They will debunk the myths of old school lead scoring and provide tips on setting up a lead prioritization process tailored for today's technological opportunities and limitations.
You can find out all about the event, and get hold of tickets from their website. If you're thinking of attending, we have a very limited number of premium tickets to give away. To find out more, or to set up a meeting over the 2 days, please get in contact via email or fill in our inquiry form and we can schedule something in. See you there!