industry insights
The rearchitected Waterfall, one year later
Last year we were absolutely thrilled with Tony Jaros' presentation on the New SiriusDecisions Waterfall given at their 2012 Summit.
Given MarketOne's heritage in B2B teleprospecting and telequalification, we have long thought and professed that Tele is where the rubber meets the road in B2B demand generation. It's the definitive conversion point – where marketing and sales find true alignment… Right, I think you get my point. This year we were therefore eager to see whether the data one year later would continue to support our enthusiasm, and Tony's session at the European Summit in London earlier this month did not disappoint. Here is our main key takeaway: too many organizations (up to 70% of them) still directly route leads from a marketing automation platform to sales, i.e. the "Route-Arounds" or, in demand waterfall speak, send their Automation Qualified Leads or 'AQL's to Sales for them to become Sales Accepted Leads(SALs).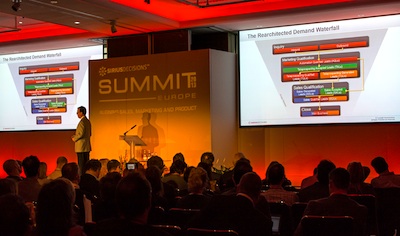 Tony emphasized that for complex solutions, which he defines as those with an average deal size of more than $25,000, "this bypassing of telequalification should not account for more than 15% of leads that are passed to sales. Otherwise lead quality will suffer and alignment with sales will deteriorate." We have seen the same phenomenon with our clients. Many of our consulting engagements begin with an audit to assess the current lead management process and alignment between sales and marketing. Lead quality typically comes up as one of the main issues. Marketing automation with its sophisticated co-dynamic scoring programs does not always prove to be the panacea all had hoped.
At MarketOne, we've looked to address these issues in various ways: by inserting a telequalification step, ensuring there is a 'warm' hand off of leads from telequalification teams to their sales counterparts, and implementing strict SLAs between sales and marketing, we greatly increase both lead quality and team alignment. Even more, by training our teleprospecting and telequalification teams to read digital body language using marketing automation tools, we are able to provide prospective customers with a much better buying experience and the marketing department with real time feedback that enables them to re-calibrate their lead scoring and lead nurturing programs.
The SiriusDecisions Waterfall model is in our opinion the strongest blueprint for demand generation today. We love the thinking behind it, and are particularly impressed by the way it continues to evolve. This also represents MarketOne's approach to demand generation for our clients – a constantly evolving service based around a proven approach.
For more insight into the SiriusDecisions European Summit, check out our on location interview with John Neeson, Managing Director and Co Founder of SiriusDecisions.