Company Introduction
Amelia has more than 2 decades of experience in building and delivering advanced Automation & Conversational AI platforms for the enterprise. What began as a vision, manifested into a company with global operations in 15 countries and an industry AI leading solution. Amelia technology impacts more than 500 of the world's leading brands, including global leaders in banking, insurance, telecommunications and more.
Having worked with MarketOne services at a previous enterprise, Amelia's CMO, Nick Panayi, engaged MarketOne US for support qualifying their leads through outreach efforts in HubSpot.

Challenge
Amelia had a small demand generation team within their Marketing department handling global qualification but were challenged by regional compliance and SLAs; conversion of leads in most instances were delayed until Sales felt they had a good chance to win the opportunity, which inflated the conversion metric.
In addition, Amelia's tele-qualifier reps did not always have sufficient inbound lead volume to fulfill their entire work week.
In the end, lack of adherence to lead management protocols along with the need to reduce costs via a scalable model drove Amelia to evaluate outsourcing the tele-qualification role vs. employing 4 full time dedicated employees.
Amelia was looking for a managed services partner that could address core challenges.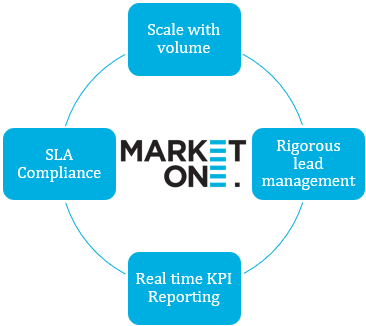 Approach – Who to call and how to optimize
During a pilot phase run in North America, prospects were assigned from two categories of inbound inquiries. Marketing Leads (MLs) which are classified as hand raisers requesting to talk with sales and Registrants who are prospects that downloaded premium content or registered for webinars. The MarketOne team was tasked with reaching out to see where the contact was in their AI journey.
While a full 2/3 of the prospects came from the Registrant segment, the combined MQL conversion rates of both segments hovered at 5% with the team unable to move the needle any higher.
Evaluating just conversions on Registrants, the 1% MQL rate brought into question the efficacy of placing additional outbound efforts behind this category.
Conversely the Marketing Leads (MLs) were a smaller segment but converting at a much higher rate of up to 17%.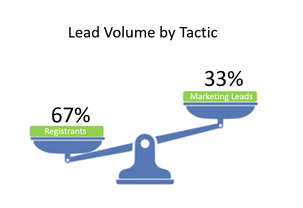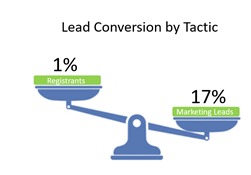 While both Registrant and ML segments had high SQL conversions (36% and 44% respectively) and leads were being called on by the same team, it became clear the most impactful ROI would be in prioritizing the Marketing Leads as these represented a prospect's willingness to talk with sales vs. people still in the research phase.
Solution
In conjunction with prioritization, MarketOne and Amelia analyzed the marketing intelligence being gathered by the outreach team.
Maximizing for a better SQL conversion was incremental as we examined the process during the early phases of outreach.
Through numerous live interviews it became clear that a broad message was not improving conversion rates and the prospects would be better served moving to an ABM 1:1 approach. Because the high volume/low conversion Registrant pool was removed from further qualification, the team now had the bandwidth to focus on aligning prospect notes in the marketing forms against specific industry knowledge to finetune questions and discovery.

Learning from conversations with prospects is the hallmark of an evolved lead qualification partnership. In one such case after uncovering that a prospect heard about Amelia through a YouTube ad, the line of questioning was changed to add in a compelling open-ended conversation starter. Rather than diving in pitch first, simply asking "How did you hear about Amelia?" helped the marketing team gain useful quantitative data points as to how prospects were finding them and qualitative information such as 'how did the evolution of AI at your company come to be?'.
Another key differentiator was Amelia's commitment to providing live feedback on not just MQLs but any leads in question resulting in an improved customer experience. The collaborative relationship further benefited the team by creating a forum that truly valued their input leaving them free to go beyond the script and become subject matter experts, making MarketOne that extra limb needed in the marketing arm.
Results
Success is achieved through leveraging experience and the open feedback loop with Amelia gave MarketOne the power to optimize lead rates in the ever-evolving paradigm of the 'perfect' customer for Amelia's AI offering. With best-in-class informational business writing applied to all conversation outcomes, Amelia marketers could utilize non leads as well as MQLs to help uncover emerging patterns, discuss newer offerings, and change messaging based on the actionable intelligence.
Spring boarding off the success in North America, in 2021 Amelia made the decision to take advantage of MarketOne's global language capabilities and expand the team to include EMEA, APAC and ANZ.
Within the first quarter MarketOne hit a global MQL rate of 19% and SQL rate of 33% showing strong performance across all regions.